PC Case 2E ALFA (Е183-400) 2E-E183-400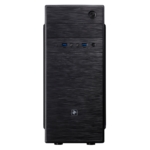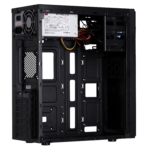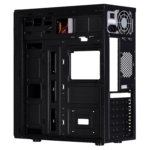 2E ALFA (Е183-400) PC case with built-in PSU with classic stylish front panel, is an ideal choice for individual and industrial assembly, thanks to its rationally organized interior space and intuitively simple design. Made of 0.45 mm steel. Mid Tower chassis form-factor is compatible with ATX, Micro ATX, Mini ITX motherboards.
* Рекомендована роздрібна ціна
Characteristics
Where to buy
Brand
2E
Series
ALFA (E183-400)
Type
Mid Tower
Material
Plastic, steel
Motherboards
ATX, Micro ATX
External 5.25″
1
Internal 2.5″
3 (4) pcs
Internal 3.5″
2 (1) pcs
Expansion slots
7 pcs
Optional fans, mm
Front panel: 2х 120, Side panel: 2х 120, Rear panel: 1x 80 (90), Top panel: non
Optional radiators, mm
Non
Included fans, mm
Non
I/O Ports, buttons
2xUSB 3.0, HD Audio+MIC/Power, Reset, Power LED, HDD LED
Power supplier,W/ place
On top
Integrated power supply
Power supply (max.): ATX Power supply: 2E ATX400W
-Peak power: 400 W
-Rated power: 200 W
-Matte Power Connector: 24 pin
-Processor Power Connector: 4 pin
-Video card power connector: no
-Peripheral/FDD/SATA Connectors: 1/0/3
-Power supply cooling: 1x80 mm fan
Form factor compatible power supply
ATX
Max VGA length, mm
320
CPU cooler height, mm
148
Dust filter
No
Dimensions (WxHxL), mm
191x417.5x355
Weight, kg
3.36
Manufactured
China
Warranty
12 months
Package dimensions (WxHxL), mm
222x450x408
Package weight, kg
4
Universal solution
2E ALFA (Е183-400) is a perfect option for assembling a universal home or office system, as well as a budget, mid-range workstation. This case model supports mounting of sufficient number of drives and numerous expansion cards (7 expansion slots), as well as a video adapter up to 320 mm long.
Ample opportunities
The case provides enough space for neat cable management, you can install up to 5 fans, and processor cooling system up to 148 mm high. For connecting, control and monitoring of computer peripherals there are connectors 2xUSB 3.0, HD AUDIO + MIC, buttons and indicators Power, Reset, Power LED, HDD LED in this chassis. A PC case 2E ALFA (Е183-400) goes with built-in power supply unit with a capacity of 400W – top-mounted. The model scope of delivery includes instructions and a screw set.